A man who attacked soldiers in Brussels with a knife was shouting "Allahu Akbar", prosecutors have confirmed.
A spokesperson for the Belgian federal prosecutor's office said the suspected terrorist was a Belgian citizen of Somali origin born in 1987.
He attacked three soldiers patrolling in the central Boulevard Emile Jacqmain shortly before 8.30pm local time (7.30pm BST) on Friday.
"The man rushed towards the soldiers and attacks them from behind with a knife, whilst shouting 'Allahu Akbar'," a spokesperson said.
"One of the soldiers opened fire and hit the man twice. The man later died in the hospital as a result of his injuries. 
"The man was in the possession of a firearm replica and two Quran books. Two of the soldiers where lightly injured."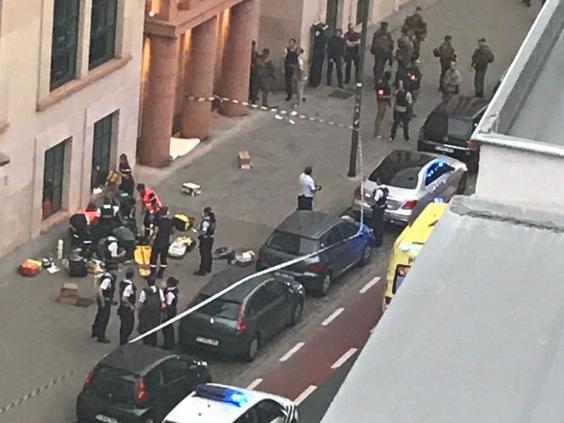 Belgian police and soldiers at the scene where a man attacked soldiers with a knife in Brussels on 25 August (Reuters)
The federal prosecutor's office has handed the investigation to a specialist anti-terrorist judge and the case has been classed as "attempted terrorist murder".
Thomas da Silva Rosa, who lives near where the attacker struck, said he saw the man lying in the street.
"The station was already blocked by police at the scene and there was a man lying on the ground," he said. 
"The police said he had been shot by soldiers. He was lying on the ground, appeared dead."
The attacker was not named but officials said he was of Somali origin and arrived in Belgium in 2004, becoming a citizen two years ago.
"The attacker is not known for terrorist activities, but for one fact of assault and battery in February 2017," a spokesperson added.
Police searched his home in Bruges overnight as the investigation into his motives and any possible network continues.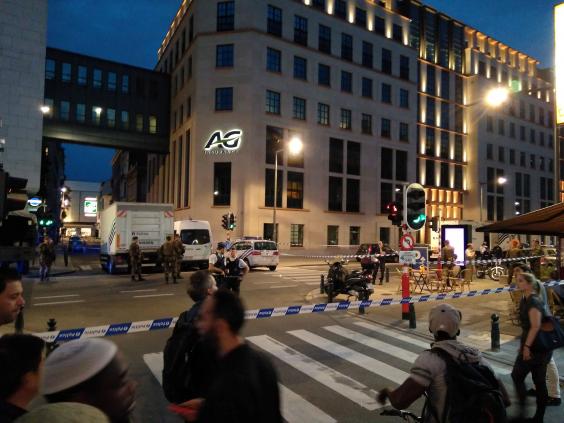 Belgian police and soldiers at the scene where a man attacked soldiers with a knife in Brussels on 25 August (Reuters)
The attack, which came just an hour before two police officers were attacked outside Buckingham Palace in London, follows a series of similar assaults across Europe.
Soldiers and police have repeatedly been targeted by lone extremists in France, Belgium and Germany, using weapons including knives, machetes, a hammer and a car filled with homemade explosives.
Isis has been intensifying calls for terror attacks on the countries bombing it as part of the US-led coalition, issuing detailed advice on carrying out stabbings, vehicle rammings and making explosives.
Officials, including security minister Ben Wallace, have warned that the threat is increasing as Isis loses territory in Iraq and Syria, with the group turning to attacks as a means of maintaining momentum and publicity.
"I think the threat is still increasing, partly driven by the fact Isis is collapsing in Syria and people are either unable to get out there to fight for Isis and so they look to do something at home, or also because people have come back and tried to inspire people with their stories and tales of the caliphate," Mr Wallace said last week, echoing concerns raised by analysts across Europe.
In pictures: Terror attacks at Brussels airport
Brussels was the location of the first Isis-linked attack in Europe, where a militant killed four people at the Jewish Museum of Belgium in May 2014.
The city has since been hit by a series of bombings that killed 32 people at Brussels Airport and a Metro station in March 2016, a machete attack on police officers in October last year and an attempted bombing at Brussels Central Station in June.
The Belgian capital is considered one of the major hubs of jihadi activity and radicalisation in Europe and was the home of most members of the Isis "super cell" behind the November 2015 Paris attacks and Brussels bombings.
According to estimates, Belgium has produced the highest number of Isis members per capita in the EU, seeing hundreds of extremists travel to Iraq and Syria since the founding of the so-called Islamic State in 2014.
Charles Michel, the Belgian Prime Minister, said he was "following the situation closely" after Friday's attack.
"All our support is with our soldiers," he wrote on Twitter. "Our security services remain on alert."
Soldiers and extra police have been deployed at public buildings and around large gatherings in Belgium for more than a year, amid heightened security across Europe.
Reuse content
Click to view the original article on The Independent.