The most senior Democrat on the US House Intelligence Committee has called for an independent probe into Donald Trump's links to Russia, saying reports of ties to the Kremlin "should concern all Americans".
Representative Adam Schiff said it was not known whether any Americans helped Russia in an alleged hacking campaign aimed at interfering in last year's vote to help get Donald Trump elected.
But he added: "If the Trump campaign, or anybody associated with it, aided or abetted the Russians, it would not only be a serious crime, it would also represent one of the most shocking betrayals of our democracy in history."
His call for a separate probe suggests Mr Schiff wants to see an investigation carried out beyond the scope of the current intelligence committee inquiry.
Hillary Clinton appeared to endorse Mr Schiff's call for a new probe, retweeting the Democrat representative who said two hours before the hearing: "The intelligence community concluded the Russians will interfere again. This is why full investigation is important to country. Please stop."
Mr Schiff also said Democrats on the committee would be focused in part on whether Americans helped Russia with its hacking of Democratic groups and individuals. 
His comments came before FBI Director James Comey publicly confirmed for the first time that the bureau is investigating Russia's efforts to interfere in the 2016 election.
Earlier, the chairman of the House intelligence committee said there was no physical wiretap on Trump Tower.
But Republican Devin Nunes said it was possible that "other surveillance activities" were used against Mr Trump and his associates.
Mr Trump took to Twitter before the hearing began, accusing Democrats of making up allegations about his campaign associates' contact with Russia during the election.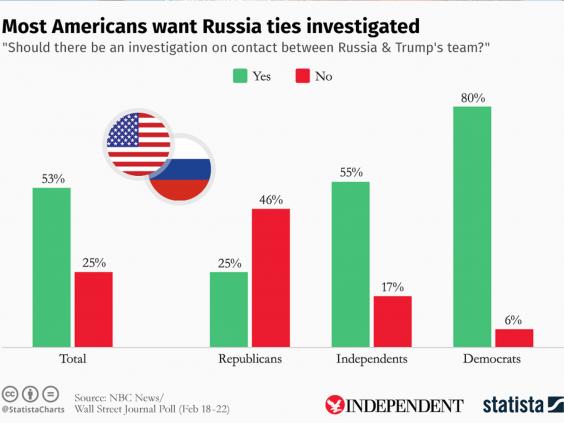 A graph showing that most Americans want Trump's alleged Russia ties to be investigated (Statista)
He said Congress and the FBI should be going after media leaks, and maybe even Hillary Clinton, instead.
Mr Trump tweeted: "The real story that Congress, the FBI and others should be looking into is the leaking of Classified information. Must find leaker now!"
Additional reporting by agencies
Click to view the original article on The Independent.