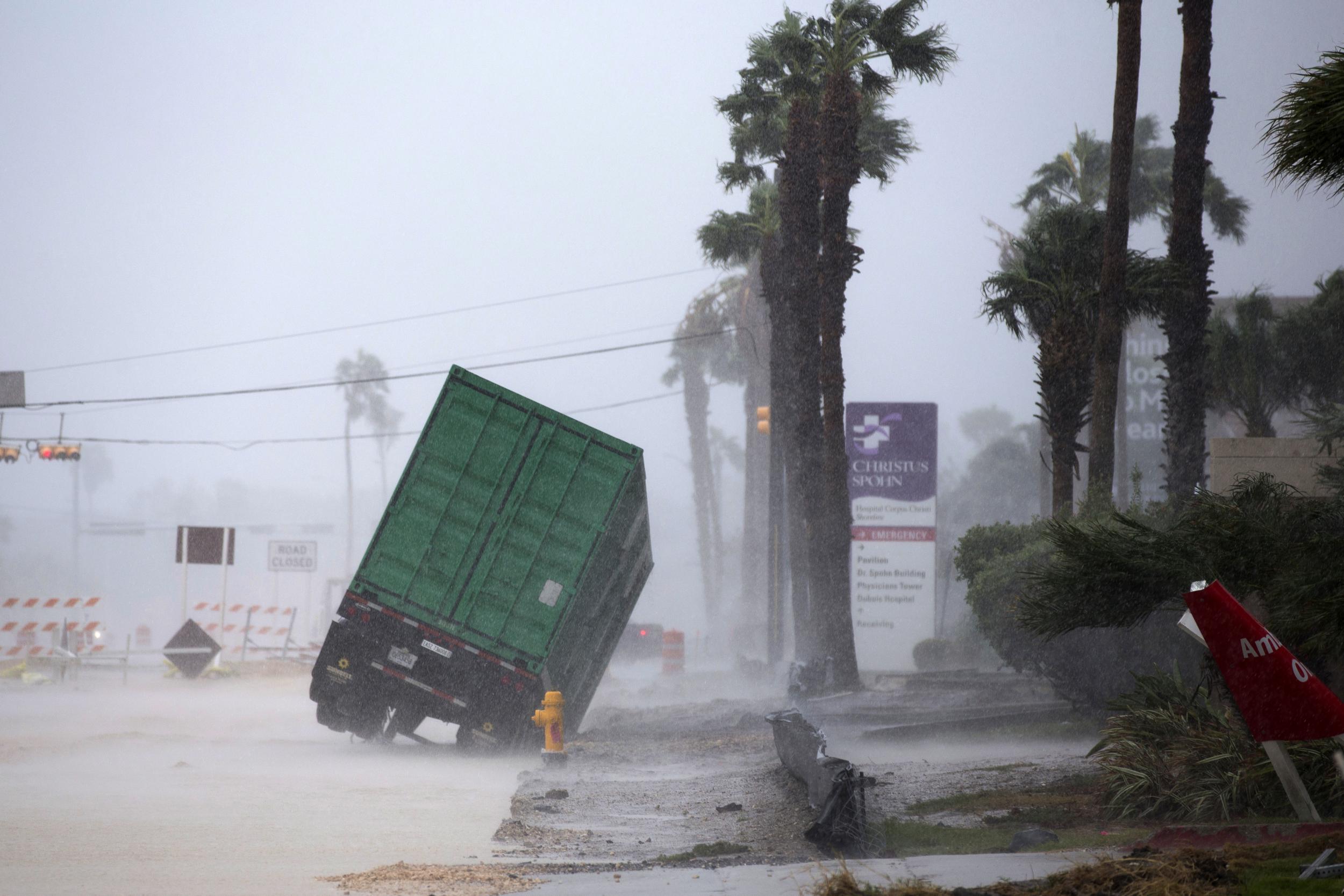 1/114



26 August 2017

100 newlyweds wearing Han Dynasty style outfits attend a group wedding in Pingdingshan, Henan province of China.

Getty
2/114



25 August 2017

Protesters block rail tracks during a demonstration of "Ende Gelaende" activists against the open cast Garzweiler brown coal mining near Vanikum, Germany.

Reuters
3/114



24 August 2017

Italian Police use a water cannon as they clash with refugee squatters who had occupied a small square in central Rome

Reuters/Yara Nardi
4/114



24 August 2017

Thailand's Patsapong Amsam-ang competes in the men's pole-vault athletics final of the 29th Southeast Asian Games (SEA Games) at the Bukit Jalil national stadium in Kuala Lumpur

Manan Vatsyayanamanan/AFP
5/114



23 August 2017

A child reacts after a big wave on a waterfront as Typhoon Hato hits Hong Kong

Reuters/Tyrone Siu
6/114



22 August 2017

Soldiers march during a changing of the Guard at the Mamayev Kurgan World War Two memorial complex and Mother Homeland statue (back) in Volgograd, Russia

Mladen Antonov/AFP
7/114



21 August 2017

Italian emergency workers rescue a baby (C) after an earthquake hit the popular Italian tourist island of Ischia, off the coast of Naples, causing several buildings to collapse overnight. A magnitude-4.0 earthquake struck the Italian holiday island of Ischia, causing destruction that left two people dead at peak tourist season, authorities said, as rescue workers struggled to free two children from the rubble

AFP/Mauro Pagnano
8/114



21 August 2017

Damage to the portside is visible as the Guided-missile destroyer USS John S. McCain (DDG 56) steers towards Changi naval base in Singapore following a collision with the merchant vessel Alnic MC. The USS John S. McCain was docked at Singapore's naval base with "significant damage" to its hull after an early morning collision with the Alnic MC as vessels from several nations searched Monday for missing U.S. sailors.

Getty Images
9/114



20 August 2017

A protester covers her eyes with a China flag to imply Goddess of Justice during the rally supporting young activists Joshua Wong, Nathan Law and Alex Chow in central in Hong Kong, Hong Kong. Pro-democracy activists Joshua Wong, Nathan Law and Alex Chow were jailed last week after being convicted of unlawful assembly.

Getty Images
10/114



19 August 2017

An extreme cycling enthusiast performs a stunt with a bicycle before falling into the East Lake in Wuhan, Hubei province, China. This activity, which requires participants to ride their bikes and jump into the lake, attracts many extreme cycling enthusiasts from the city.

Getty Images
11/114



18 August 2017

People gather around tributes laid on Las Ramblas near to the scene of yesterday's terrorist attack in Barcelona, Spain. Fourteen people were killed and dozens injured when a van hit crowds in the Las Ramblas area of Barcelona on Thursday. Spanish police have also killed five suspected terrorists in the town of Cambrils to stop a second terrorist attack.

Getty
12/114



17 August 2017

Participants take part in Panjat Pinang, a pole climbing contest, as part of festivities marking Indonesia's 72nd Independence Day on Ancol beach in Jakarta.
Panjat Pinang, a tradition dating back to the Dutch colonial days, is one of the most popular traditions for celebrating Indonesia's Independence Day.

AFP/Getty Images
13/114



16 August 2017

Demonstrators participate in a march and rally against white supremacy in downtown Philadelphia, Pennsylvania. Demonstrations are being held following clashes between white supremacists and counter-protestors in Charlottesville, Virginia over the weekend. Heather Heyer, 32, was killed in Charlottesville when a car allegedly driven by James Alex Fields Jr. barreled into a crowd of counter-protesters following violence at the Unite the Right rally.

Getty
14/114



15 August 2017

South Korea protesters hold placards with an illustration of U.S. President Donald Trump during a during a 72nd Liberation Day rally in Seoul, South Korea. Korea was liberated from Japan's 35-year colonial rule on August 15, 1945 at the end of World War II.

Getty
15/114



14 August 2017

The Chattrapathi Shivaji Terminus railway station is lit in the colours of India's flag ahead of the country's Independence Day in Mumbai. Indian Independence Day is celebrated annually on 15 August, and this year marks 70 years since British India split into two nations Hindu-majority India and Muslim-majority Pakistan and millions were uprooted in one of the largest mass migrations in history

AFP/Getty
16/114



13 August 2017

A demonstrator holds up a picture of Heather Heyer during a demonstration in front of City Hall for victims of the Charlottesville, Virginia tragedy, and against racism in Los Angeles, California, USA. Rallies have been planned across the United States to demonstrate opposition to the violence in Charlottesville

EPA
17/114



12 August 2017

Jessica Mink (R) embraces Nicole Jones (L) during a vigil for those who were killed and injured when a car plowed into a crowd of anti-fascist counter-demonstrators marching near a downtown shopping area Charlottesville, Virginia

Getty
18/114



12 August 2017

White nationalists, neo-Nazis and members of the "alt-right" clash with counter-protesters as they enter Lee Park during the "Unite the Right" in Charlottesville, Virginia. After clashes with anti-fascist protesters and police the rally was declared an unlawful gathering and people were forced out of Lee Park

Getty
19/114



11 August 2017

A North Korean flag is seen on top of a tower at the propaganda village of Gijungdong in North Korea, as a South Korean flag flutters in the wind in this picture taken near the border area near the demilitarised zone separating the two Koreas in Paju, South Korea

Reuters
20/114



11 August 2017

A firefighter extinguishes flames as a fire engulfs an informal settlers area beside a river in Manila

AFP
21/114



10 August 2017

A rally in support of North Korea's stance against the US, on Kim Il-Sung square in Pyongyang.

AFP
22/114



10 August 2017

Rocks from the collapsed wall of a hotel building cover a car after an earthquake outside Jiuzhaigou, Sichuan province

Reuters
23/114



9 August 2017

People in Seoul, South Korea walk by a local news program with an image of US President Donald Trump on Wednesday 9 August. North Korea and the United States traded escalating threats, with Mr Trump threatening Pyongyang "with fire and fury like the world has never seen"

AP
24/114



8 August 2017

A Maasai woman waits in line to vote in Lele, 130 km (80 miles) south of Nairobi, Kenya. Kenyans are going to the polls today to vote in a general election after a tightly-fought presidential race between incumbent President Uhuru Kenyatta and main opposition leader Raila Odinga

AP
25/114



7 August 2017

Pro-government supporters march in Caracas, Venezuela on 7 August

Reuters
26/114



6 August 2017

Children pray after releasing paper lanterns on the Motoyasu river facing the Atomic Bomb Dome in remembrance of atomic bomb victims on the 72nd anniversary of the bombing of Hiroshima, western Japan.

REUTERS
27/114



5 August 2017

Russian President Vladimir Putin (L), accompanied by defence minister Sergei Shoigu, gestures as he fishes in the remote Tuva region in southern Siberia.

AFP/Getty Images
28/114



4 August 2017

A family claiming to be from Haiti drag their luggage over the US-Canada border into Canada from Champlain, New York, U.S. August 3, 2017.

Reuters
29/114



4 August 2017

A disabled man prepares to cast his vote at a polling station in Kigali, Rwanda, August 4, 2017

Reuters
30/114



4 August 2017

ATTENTION EDITORS -People carry the body of Yawar Nissar, a suspected militant, who according to local media was killed during a gun battle with Indian security forces at Herpora village, during his funeral in south Kashmir's Anantnag district August 4, 2017.

Reuters
31/114



4 August 2017

A general view shows a flooded area in Sakon Nakhon province, Thailand August 4, 2017.

Reuters
32/114



3rd August 2017

A plane landed in Sao Joao Beach, killing two people, in Costa da Caparica, Portugal August 2, 2017

Reuters
33/114



3rd August 2017

Hermitage Capital CEO William Browder waits to testify before a continuation of Senate Judiciary Committee hearing on alleged Russian meddling in the 2016 presidential election on Capitol Hill in Washington, U.S., July 27, 2017

Reuters
34/114



3rd August 2017

TOPSHOT – Moto taxi driver hold flags of the governing Rwanda Patriotic Front's at the beginning of a parade in Kigali, on August 02, 2017.
Incumbent Rwandan President Paul Kagame will close his electoral campaigning ahead of the August 4, presidential elections which he is widely expected to win giving him a third term in office

AFP
35/114



3rd August 2017

TOPSHOT – Migrants wait to be rescued by the Aquarius rescue ship run by non-governmental organisations (NGO) "SOS Mediterranee" and "Medecins Sans Frontieres" (Doctors Without Borders) in the Mediterranean Sea, 30 nautic miles from the Libyan coast, on August 2, 2017.

AFP
36/114



2 August 2017

Two children hold a placard picturing a plane as they take part in a demonstration in central Athens outside the German embassy with others refugees and migrants to protest against the limitation of reunification of families in Germany, on August 2, 2017.

AFP
37/114



2 August 2017

Flames erupt as clashes break out while the Constituent Assembly election is being carried out in Caracas, Venezuela, July 30, 2017. REUTERS/Carlos Garcia Rawlins

Reuters
38/114



2 August 2017

People in the village of Gabarpora carry the remains of Akeel Ahmad Bhat, a civilian who according to local media died following clashes after two militants were killed in an encounter with Indian security forces in Hakripora in south Kashmir's Pulwama district, August 2, 2017. REUTERS/Danish Ismail

Reuters
39/114



2 August 2017

– Incumbent Rwandan President Paul Kagame gestures as he arrives for the closing rally of the presidential campaign in Kigali, on August 2, 2017 while supporters greet him.
Rwandans go the polls on August 4, 2017 in a presidential election in which strongman Paul Kagame is widely expected to cruise to a third term in office.

AFP
40/114



30 July 2017

Soldiers of China's People's Liberation Army (PLA) get ready for the military parade to commemorate the 90th anniversary of the foundation of the army at Zhurihe military training base in Inner Mongolia Autonomous Region, China.

REUTERS
41/114



29 July 2017

Cyclists at the start of the first stage of the Tour de Pologne cycling race, over 130km from Krakow's Main Market Square, Poland

EPA
42/114



28 July 2017

Israeli border guards keep watch as Palestinian Muslim worshippers pray outside Jerusalem's old city overlooking the Al-Aqsa mosque compound

Ahmad Gharabli/AFP
43/114



28 July 2017

A supporter of Pakistan's Prime Minister Nawaz Sharif passes out after the Supreme Court's decision to disqualify Sharif in Lahore

Reuters/Mohsin Raza
44/114



27 July 2017

Australian police officers participate in a training scenario called an 'Armed Offender/Emergency Exercise' held at an international passenger terminal located on Sydney Harbour

Reuters/David Gray
45/114



27 July 2017

North Korean soldiers watch the south side as the United Nations Command officials visit after a commemorative ceremony for the 64th anniversary of the Korean armistice at the truce village of Panmunjom in the Demilitarized Zone (DMZ) dividing the two Koreas

Reuters/Jung Yeon-Je
46/114



26 July 2017

Bangladeshi commuters use a rickshaw to cross a flooded street amid heavy rainfall in Dhaka. Bangladesh is experiencing downpours following a depression forming in the Bay of Bengal.

Munir Uz Zaman/AFP
47/114



26 July 2017

The Soyuz MS-05 spacecraft for the next International Space Station (ISS) crew of Paolo Nespoli of Italy, Sergey Ryazanskiy of Russia, and Randy Bresnik of the U.S., is transported from an assembling hangar to the launchpad ahead of its upcoming launch, at the Baikonur Cosmodrome in Baikonur, Kazakhstan

Reuters/Shamil Zhumatov
48/114



25 July 2017

A protester shouts at U.S. President Donald Trump as he is removed from his rally with supporters in an arena in Youngstown, Ohio

Reuters
49/114



23 July 2017

Indian supporters of Gorkhaland chant slogans tied with chains during a protest march in capital New Delhi. Eastern India's hill resort of Darjeeling has been rattled at the height of tourist season after violent clashes broke out between police and hundreds of protesters of the Gorkha Janmukti Morcha (GJM) – a long-simmering separatist movement that has long called for a separate state for ethnic Gorkhas in West Bengal. The GJM wants a new, separate state of "Gorkhaland" carved out of eastern West Bengal state, of which Darjeeling is a part.

Sajjad Hussain/AFP/Getty Images
50/114



23 July 2017

Demonstrators clash with riot security forces while rallying against Venezuela's President Nicolas Maduro's government in Caracas, Venezuela. The banner on the bridge reads "It will be worth it"

Reuters
51/114



22 July 2017

The Heathcote river as it rises to high levels in Christchurch, New Zealand. Heavy rain across the South Island in the last 24 hours has caused widespread damage and flooding with Dunedin, Waitaki, Timaru and the wider Otago region declaring a state of emergency.

Getty Images
52/114



22 July 2017

A mourner prays at a memorial during an event to commemorate the first anniversary of the shooting spree that one year ago left ten people dead, including the shooter in Munich, Germany. One year ago 18-year-old student David S. shot nine people dead and injured four others at and near a McDonalds restaurant and the Olympia Einkaufszentrum shopping center. After a city-wide manhunt that caused mass panic and injuries David S. shot himself in a park. According to police David S., who had dual German and Iranian citizenship, had a history of mental troubles.

Getty
53/114



21 July 2017

Palestinians react following tear gas that was shot by Israeli forces after Friday prayer on a street outside Jerusalem's Old City

Reuters/Ammar Awad
54/114



21 July 2017

Ousted former Thai prime minister Yingluck Shinawatra greets supporters as she arrives at the Supreme Court in Bangkok, Thailand

Reuters/Athit Perawongmetha
55/114



20 July 2017

Marek Suski of Law and Justice (PiS) (C) party scuffles with Miroslaw Suchon (2nd L) of Modern party (.Nowoczesna) as Michal Szczerba of Civic Platform (PO) (L) party holds up a copy of the Polish Constitution during the parliamentary Commission on Justice and Human Rights voting on the opposition's amendments to the bill that calls for an overhaul of the Supreme Court in Warsaw

Reuters
56/114



20 July 2017

A firefighter stands near a grass fire as he prepares to defend a home from the Detwiler fire in Mariposa, California

Reuters
57/114



19 July 2017

Michael Lindell ,CEO of My Pillow reacts as U.S. President Donald Trump attends a Made in America roundtable meeting in the East Room of the White House

Reuters
58/114



18 July 2017

Giant pandas lie beside ice blocks at Yangjiaping Zoo in Chongqing, China. Yangjiaping Zoo provided huge ice blocks for giant pandas to help them remove summer heat

Getty Images
59/114



18 July 2017

People ride camels in the desert in Dunhuang, China, as stage 10 of The Silkway Rally continues

AFP/Getty Images
60/114



18 July 2017

17th FINA World Aquatics Championships in Budapest, Hungary. Team North Korea practice under coach supervision

REUTERS
61/114



17 July 2017

IAAF World ParaAthletics Championships – London, Britain – July 17, 2017

Reuters/Henry Browne
62/114



17 July 2017

Workers check power lines during maintenance work in Laian, in China's eastern Anhui province

AFP/Getty Images
63/114



17 July 2017

Russia Kamaz's driver Dmitry Sotnikov, co-drivers Ruslan Akhmadeev and Ilnur Mustafin compete during the Stage 9 of the Silk Way 2017 between Urumqi and Hami, China

Franck Fife/AFP/Getty Images
64/114



17 July 2017

Australian Prime Minister Malcolm Turnbull talks with Special Operations Command soldiers during a visit to the Australian Army's Holsworthy Barracks in western Sydney

AAP/Brendan Esposito/via Reuters
65/114



16 July 2017

Men in traditional sailor costumes celebrate after carrying a statue of the El Carmen Virgin, who is worshipped as the patron saint of sailors, into the Mediterranean Sea during a procession in Torremolinos, near Malaga, Spain

Reuters/Jon Nazca
66/114



16 July 2017

People participate in a protest in front of the Sejm building (the lower house of the Polish parliament) in Warsaw, Poland. The demonstration was organized by Committee for the Defense of Democracy (KOD). Members and supporters of the KOD and opposition parties protested against changes in the judicial law and the Supreme Court

EPA
67/114



16 July 2017

People prepare to swim with a portrait of late Chinese Chairman Mao Zedong on the bank of the Yangtze River in Yichang, Hubei province, China to celebrate the 51st anniversary of Chairman Mao swimming in the Yangtze River.

REUTERS
68/114



15 July 2017

A woman takes a selfie picture with her mobile phone next to the statue of Omer Halisdemir in Istanbul, in front of a memorial with the names of people killed last year during the failed coup attempt .

AFP/Getty Images
69/114



14 July 2017

French President Emmanuel Macron gestures next to US President Donald Trump during the annual Bastille Day military parade on the Champs-Elysees avenue in Paris.

AFP/Getty Images
70/114



13 July 2017

Philippine National Police chief Ronald Bato Dela Rosa holds an M60 machine gun during a Gun and Ammunition show at a mall in Mandaluyong city, metro Manila, Philippines

Reuters
71/114



13 July 2017

Ukrainian President Petro Poroshenko and European Commission President Jean-Claude Juncker embrace before the EU-Ukraine summit in Kiev, Ukraine

Reuters
72/114



13 July 2017

US President Donald Trump (R) and First Lady Melania Trump disembark form Air Force One upon arrival at Paris Orly airport on July 13, 2017, beginning a 24-hour trip that coincides with France's national day and the 100th anniversary of US involvement in World War I

Saul Loeb/AFP/Getty Images
73/114



12 July 2017

Iraqis walk on a damaged street in west Mosul a few days after the government's announcement of the liberation of the embattled city from Islamic State (IS) group fighters

Getty
74/114



12 July 2017

Iraqi boys wash a vehicle in west Mosul a few days after the government's announcement of the liberation of the embattled city from Islamic State (IS) group fighters

Fadel Senna/AFP/Getty Images
75/114



11 July 2017

Afghan policeman pour fuel over jerry cans containing confiscated acetic acid before setting it alight on the outskirts of Herat. Some 15,000 liters of acetic acid, often mixed with heroin, were destroyed by counter narcotics police

Hoshang Hashimi/AFP
76/114



10 July 2017

Police from the anti-terror squad participate in an anti-terror performance among Acehnese dancers during a ceremony to commemorate the 71st anniversary of the Indonesian police corps in Banda Aceh

AFP/Getty Images
77/114



11 July 2017

Residents stand amid the debris of their homes which were torn down in the evicted area of the Bukit Duri neighbourhood located on the Ciliwung river banks in Jakarta

Bay Ismoyo/AFP
78/114



11 July 2017

Boys play cricket at a parking lot as it rains in Chandigarh, India

Reuters/Ajay Verma
79/114



10 July 2017

Turkey's President Recep Tayyip Erdogan speaks at the 22nd World Petroleum Congress (WPC) in Istanbul

AFP
80/114



10 July 2017

New Mongolia's president Khaltmaa Battulga takes an oath during his inauguration ceremony in Ulaanbaatar, Mongolia

Reuters
81/114



10 July 2017

US army 1st Division, US air force, US Navy and US Marines, march down the Champs Elysees, with the Arc de Triomphe in the background, in Paris during a rehearsal of the annual Bastille Day military parade

AFP
82/114



9 July 2017

Participants run ahead of Puerto de San Lorenzo's fighting bulls during the third bull run of the San Fermin festival in Pamplona, northern Spain.
Each day at 8:00 am hundreds of people race with six bulls, charging along a winding, 848.6-metre (more than half a mile) course through narrow streets to the city's bull ring, where the animals are killed in a bullfight or corrida, during this festival, immortalised in Ernest Hemingway's 1926 novel "The Sun Also Rises" and dating back to medieval times and also featuring religious processions, folk dancing, concerts and round-the-clock drinking.

AFP/Getty Images
83/114



8 July 2017

Iraqi women, who fled the fighting between government forces and Islamic State (IS) group jihadists in the Old City of Mosul, cry as they stand in the city's western industrial district awaiting to be relocated

AFP
84/114



8 July 2017

US President Donald Trump arrives for another working session during the G20 summit in Hamburg, northern Germany

AFP/Getty Images
85/114



7 July 2017

People climb up on a roof to get a view during riots in Hamburg, northern Germany, where leaders of the world's top economies gather for a G20 summit

AFP/Getty Images
86/114



6 July 2017

Anti-capitalism activists protest in Hamburg, where leaders of the world's top economies will gather for a G20 summit.

AFP/Getty
87/114



7 July 2017

A military helicopter rescues people trapped on the roof of the Ministry of Finance by an intense fire in San Salvador

AFP/Getty Images
88/114



6 July 2017

Donald Trump arrives to deliver a speech at Krasinski Square in Warsaw, Poland.

AP
89/114



6 July 2017

A firefighter conducts rescue operations in an area damaged by heavy rain in Asakura, Japan.

Reuters
90/114



6 July 2017

Crowds gather for the start of the San Fermin festival in Pamplona, Spain.

AFP
91/114



5 July 2017

A member of the Iraqi security forces runs with his weapon during a fight between Iraqi forces and Islamic State militants in the Old City of Mosul, Iraq.
92/114



5 July 2017

A U.S. MGM-140 Army Tactical Missile is fired during the combined military exercise between the U.S. and South Korea against North Korea at an undisclosed location in South Korea

A.P
93/114



4 July 2017

North Korean Leader Kim Jong Un looks on during the test-fire of inter-continental ballistic missile Hwasong-14

Reuters
94/114



4 July 2017

Russian President Vladimir Putin (R) shakes hands with his Chinese counterpart Xi Jinping during a signing ceremony following the talks at the Kremlin

Reuters
95/114



3 July 2017

Belarussian servicemen march during a military parade as part of celebrations marking the Independence Day in Minsk, Belarus

Reuters
96/114



3 July 2017

Ambulance cars and fire engines are seen near the site where a coach burst into flames after colliding with a lorry on a motorway near Muenchberg, Germany

Reuters
97/114



28 June 2017

An aerial view shows women swimming in the Yenisei River on a hot summer day, with the air temperature at about 32 degrees Celsius (89.6 degrees Fahrenheit), outside Krasnoyarsk, Siberia, Russia, June 28, 2017

Reuters
98/114



2 July 2017

Protesters demonstrating against the upcoming G20 economic summit ride boats on Inner Alster lake during a protest march in Hamburg, Germany. Hamburg will host the upcoming G20 summit and is expecting heavy protests throughout.

Getty Images
99/114



27 June 2017

Investigators work at the scene of a car bomb explosion which killed Maxim Shapoval, a high-ranking official involved in military intelligence, in Kiev, Ukraine, June 27, 2017

Reuters
100/114



1 July 2017

Protesters carry a large image of jailed Chinese Nobel Peace laureate Liu Xiaobo as they march during the annual pro-democracy protest in Hong Kong. Thousands joined an annual protest march in Hong Kong, hours after Chinese President Xi Jinping wrapped up his visit to the city by warning against challenges to Beijing's sovereignty.

AP
101/114



30 June 2017

Jockey Andrea Coghe of "Selva" (Forest) parish rides his horse during the first practice for the Palio Horse Race in Siena, Italy June 30, 2017

Reuters
102/114



30 June 2017

A man takes pictures with a phone with a Union Flag casing after Chinese President Xi Jinping (not pictured) inspected troops at the People's Liberation Army (PLA) Hong Kong Garrison as part of events marking the 20th anniversary of the city's handover from British to Chinese rule, in Hong Kong, China June 30, 2017

Reuters
103/114



29 June 2017

A protester against U.S. President Donald Trump's limited travel ban, approved by the U.S. Supreme Court, holds a sign next to protesters supporting the ban, in New York City, U.S., June 29, 2017

Reuters
104/114



29 June 2017

Israeli Air Force Efroni T-6 Texan II planes perform at an air show during the graduation of new cadet pilots at Hatzerim base in the Negev desert, near the southern Israeli city of Beer Sheva

AFP/Getty Images
105/114



28 June 2017

A woman gestures next to people spraying insecticide on a vehicle during a mosquito-control operation led by Ivory Coast's National Public and Health Institute in Bingerville, near Abidjan where several cases of dengue fever were reported

AFP/Getty Images
106/114



27 June 2017

A Libyan coast guardsman watches over as illegal immigrants arrive to land in a dinghy during the rescue of 147 people who attempted to reach Europe off the coastal town of Zawiyah, 45 kilometres west of the capital Tripoli, on June 27, 2017.
More than 8,000 migrants have been rescued in waters off Libya during the past 48 hours in difficult weather conditions, Italy's coastguard said on June 27, 2017

AFP/Getty Images
107/114



26 June 2017

A man leaves after voting in the Mongolian presidential election at the Erdene Sum Ger (Yurt) polling station in Tuul Valley. Mongolians cast ballots on June 26 to choose between a horse breeder, a judoka and a feng shui master in a presidential election rife with corruption scandals and nationalist rhetoric

AFP/Getty Images
108/114



26 June 2017

People attend Eid al-Fitr prayers to mark the end of the holy fasting month of Ramadan at a play ground in the suburb of Sale, Morocco

REUTERS
109/114



25 June 2017

A plain-clothes police officer kicks a member of a group of LGBT rights activist as Turkish police prevent them from going ahead with a Gay Pride annual parade on 25 June 2017 in Istanbul, a day after it was banned by the city governor's office.

AFP/Getty Images
110/114



25 June 2017

Pakistan army soldiers stands guard while rescue workers examine the site of an oil tanker explosion at a highway near Bahawalpur, Pakistan. An overturned oil tanker burst into flames in Pakistan on Sunday, killing more than one hundred people who had rushed to the scene of the highway accident to gather leaking fuel, an official said.

AP
111/114



24 June 2017

Rescue workers search for survivors at the site of a landslide that occurred in Xinmo Village, Mao County, Sichuan province, China

REUTERS
112/114



23 June 2017

Student activists shout anti martial law slogans during a protest in Manila on June 23, 2017

AFP/Getty Images
113/114



23 June 2017

A diver performs from the Pont Alexandre III bridge into the River Seine in Paris, France, June 23, 2017 as Paris transforms into a giant Olympic park to celebrate International Olympic Days with a variety of sporting events for the public across the city during two days as the city bids to host the 2024 Olympic and Paralympic Games

Reuters
114/114



23 June 2017

Debris and smoke are seen after an OV-10 Bronco aircraft released a bomb, during an airstrike, as government troops continue their assault against insurgents from the Maute group, who have taken over parts of Marawi city, Philippines June 23, 2017

Reuters
Click to view the original article on The Independent.