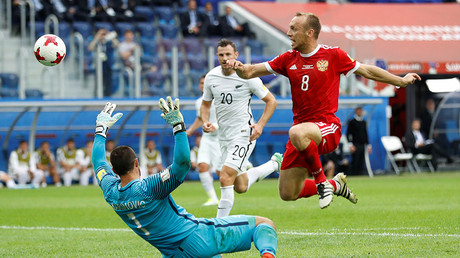 Half time – Russia lead New Zealand 1-0 in St. Petersburg in the Confederations Cup curtain raiser.
New Zealand seemingly have no answer to Russia's attacking threat, Dmitry Poloz and Fedor Smolov have cause havoc for the All White defense. Russia beat 'keeper Marinovic, firstly through Viktor Vasin from a header and then from Poloz, but both efforts were eventually cleared by the defender. The third time, Denis Glushakov raced through the middle and clipped the ball past Marinovic, this time the New Zealand defense int he shape of Michael Boxall, could only tip into his own net after the ball ricocheted off the post. Russia deserved the advantage.
To play the extra attacker was a cunning move by manager Cherchesov, as Russia have found themselves with so much time on the ball when going forward, New Zealand seemingly powerless to close them down. All going in favor of the home side so far in St. Petersburg.
Click to view original article on RT.